SNAP transport vehicle is suave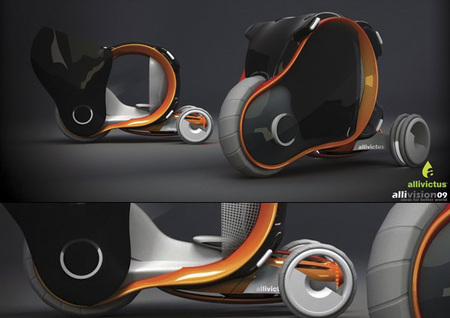 Damn Right, this looks like a Hovercraft! But it isn't that. This is a three-wheel single passenger transport vehicle that not only offers single-person transportation, but also a multi-singular long range option. Each SNAP vehicle is designed to connect to the main SNAP train which basically converts it into a multi-singular long range option, offering private mass transit with no hassles. Once you get on the train, you have the choice of opening that door and having a little chat with your fellow passenger or simply keep it shut and enjoy some moments of privacy.
The SNAP singular vehicle is pretty much like a two-wheel motor bike taking crispy, tight turns. Stability is provided by the adjustable track width back wheels and giant front wheel for steep leaning. Connection to the locomotive is provided by the movable chassis. The SNAP vehicle could do some good work on the racing tracks after it comes into the production stage!